Top 5 shrubs for shade
Written on 19th January, 2022
Shrubs that perform well in shade, offering long or multi seasonal interest are a valuable part of any planting scheme. Here are my top 5.
Camellia sasanqua. I find this autumn flowering camellia so much more delicate, in leaf and in flower, than its blousy spring cousins. Varieties such as 'Crimson King' (red), 'Plantation Pink' and 'Hinode-Gumo' (white), will all flower for weeks on end, from November onwards. Prefers moist, rich, acidic soil.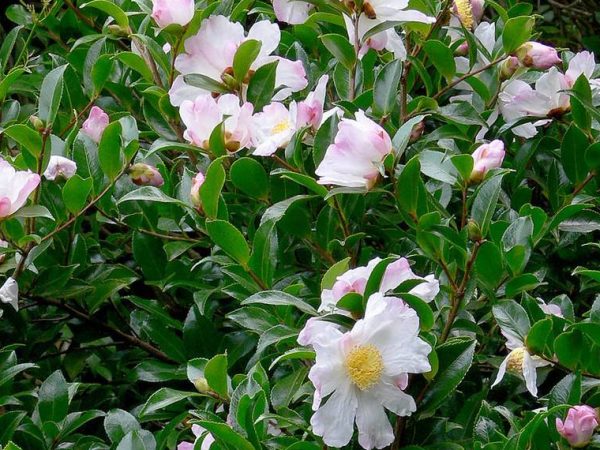 Hydrangeas are so well known and loved, to the point of being a bit ubiquitous, but there are plenty of choice selections if you look past the Edwardian mopheads. My favourite is Hydrangea aspera 'Villosa Group' with its large pointed velvet leaves and late summer blue flowers. It can also be grown on chalk. AGM.
Garrya elliptica. Also known as the silk tassel bush, this easy to grow evergreen shrub, originally from California, produces long, attractive catkins, from December through to February. It will grow in most soil types but prefers to be out of the wind, and not in deep shade. 'James Roof' is the most popular variety because its tassels are much longer than the species, up to 30cm long, and lasting for many weeks, making a striking backdrop to other, smaller plants. AGM.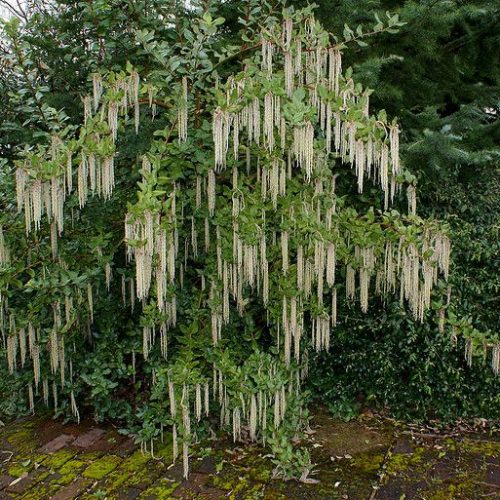 Fatsia japonica is a member of the increasingly popular araliaceae family, whose more in vogue species include sheffleras, tetrapanax and the hard-to-find brassaiopsis, but fatsias themselves are, for some unknown reason, often overlooked. They can cope with a bit of sun as well as full shade, and a fair amount of general neglect too. F. japonica has wonderfully architectural and evergreen leaves, and striking panicles of spherical, creamy white flowers, which are often followed by round, black fruit. Both the flowers and berries are a valuable food source for beneficial insects, especially as they are produced in the middle of winter when not much else is on offer.
Rhododendron 'Cunninghams White', is a reliable, free flowering rhododendron with mauve buds that open to white flowers with a pale yellow centre in early May. It can tolerate a wide range of soil conditions, unlike most rhododendrons that prefer acidic soil. I've used it as a large multi stemmed specimen plant, exposing the wonderful gnarly stems. AGM.